Navigating the Dating Scene: Discover the Best Sites And Apps
The growth in the number of dating sites and apps has been exponential over the past few years. With so many different platforms available, there are now more options than ever before for people to find love online. There are also many sites and apps that cater to smaller niches such as gay dating (Grindr, HER), Asian dating (EastMeetEast) or even religious-based services like Christian Mingle.
In 2020 alone, an estimated 40 million Americans used some form of online dating service in the United States according to Statista research data – a 15% increase from 2019! This is no surprise considering how convenient it can be for busy individuals who may not have time or access to meet potential partners through traditional means.
We evaluated various criteria when assessing each site/app including:
• Security & Privacy Measures • User Interface Design • Matching Algorithms • Cost Structure • Quality Of Profiles • Customer Support Services
These criteria help us evaluate whether a particular platform meets our standards when it comes to safety features, user experience design and cost structure – all important factors when selecting your ideal matchmaking website or app! Additionally we take into account other aspects such as performance levels on both desktop & mobile devices along with any unique features offered by individual providers which could give them an edge over their competitors within this crowded market space. Our review website is here specifically designed with you in mind; helping you make informed decisions about which type of service best suits your needs so that you're sure to find one that works perfectly for you!
Search our reviews
You can use our ajax search form to search in the reviews or click one of the selected buttons below.
The Best & Most Popular Dating Sites and Apps
We have extensively researched hundreds of dating sites and apps, testing them out for features, ease-of-use, pricing plans and more. After carefully reviewing each one we've compiled a list of the best options available so you can find the perfect match quickly and easily. With our comprehensive reviews at your fingertips you'll be able to make an informed decision on which site or app is right for you!
Bumble is a location-based social and dating application that facilitates communication between interested users.

IMVU is a 3D social networking and virtual world platform where users can create their own avatars, chat with other members, customize their environment, and shop for clothes.

LatinAmericanCupid is an online dating site that connects Latin American singles with others around the world.

Tantan is a social networking app that helps people make new connections and find potential dates.

JoyClub is an online community for people interested in exploring their sexuality and connecting with like-minded individuals.

Hornet is a social network app for gay, bi and curious men to connect with each other.

Shaadi.com is an online matrimonial platform that helps people find suitable matches for marriage.

Illicit Encounters is a dating website for married people looking to have an affair.

BiggerCity is an online community for gay and bisexual men of size (chubs, chasers, bears) to connect with each other.
Bumble
Bumble is a location-based social and dating application that facilitates communication between interested users. Launched in 2014, the app has grown to become one of the most popular dating apps with over 100 million registered users worldwide. It operates in 150 countries and boasts more than 10 billion matches made since its launch. Bumble also offers unique features such as women making the first move, allowing them to take control of their own romantic destiny; an exclusive photo verification system which helps protect against catfishing; and private messaging options for those who want to keep things discreet. Additionally, Bumble recently launched a professional networking platform called "Bizz" which allows professionals from all industries to connect with each other for business opportunities or mentorship programs. With these innovative features combined with its strong user base, it's no wonder why Bumble continues to be one of today's top online dating platforms!
Bumble pros
1.Women make the first move, allowing them to take control of their dating life.
2. Matches expire after 24 hours if no message is sent, reducing ghosting and time-wasting conversations.
3. Verified profiles provide a higher level of trust for users than other apps do.
4. The "BFF" mode allows users to find friends as well as potential dates in their area
Bumble const
1.Limited access to features for free users
2. Lack of detailed profiles
3. Unclear matching algorithm
4. Difficulty finding matches outside local area
Bumble premium
1.Bumble Boost: $9.99/week
2. Bumble Coins: $1.99 for 20 coins, or up to 10 coins for free with certain actions in the app
3. SuperSwipe Feature: Free
1.1 Month – $9.99
2. 3 Months – $24.99
3. 6 Months – $44.99
• Bumble is one of the most popular dating apps, with over 50 million users worldwide.
• It has been downloaded more than 100 million times on iOS and Android devices.
• In 2020, it was estimated that Bumble had a market share of 12% in the US online dating market.
• The app is particularly popular among young adults aged 18-29 years old, accounting for 38% of its user base in 2019.
IMVU
IMVU is an online virtual world and 3D chat program that allows users to create their own unique avatars, explore the vibrant digital universe, customize their look with a wide range of clothing and accessories, interact with other players in real-time conversations or join groups for special events. With over 100 million registered users from around the globe since its launch in 2004, IMVU has become one of the most popular social networks on the web. It offers millions of products ranging from clothes to furniture items which can be purchased using credits earned through activities like chatting or playing mini-games within IMVU's platform. Every day more than 5 million messages are exchanged between members who have created over 4 billion user profiles as well as shared 500+ million photos and videos among each other making it one of largest interactive communities out there today!
IMVU pros
1.Variety of customisation options
2. Free to play
3. Ability to create your own content
4. Interact with other players in a virtual world
IMVU const
1.Limited range of activities
2. Lack of real-world interaction
3. Potential for inappropriate content exposure
IMVU premium
1.$9.95/month
2. $24.99/3 months
3. $59.99/year
1.1 Month: $9.95
2. 3 Months: $26.85
3. 6 Months: $49.70
4. 12 Months (Best Value):$89
• IMVU has over 3 million monthly active users.
• Over 80% of its user base is under the age of 25.
• It currently has more than 4 billion registered avatars and 1 billion chat rooms created since launch in 2004.
• There are over 10 million items available for purchase on IMVU, including virtual clothing, furniture, hairstyles and accessories.
LatinAmericanCupid
LatinAmericanCupid is an online dating platform that connects Latin American singles from around the world. With over 3 million members, it has become one of the most popular international dating sites in its niche. It offers a range of features to help users find their perfect match including advanced search filters, messaging options and profile verification tools. The site also provides helpful tips on how to make your experience more successful such as creating interesting profiles and engaging with other members through chat rooms or forums. On average, there are approximately 200 new registrations every day which makes for a total of 600 thousand active users at any given time – making this website one of the largest in its field! Additionally, almost 60% percent of all visitors come from countries like Mexico, Brazil and Colombia; demonstrating just how far-reaching LatinAmericanCupid's reach really is! Finally – thanks to its secure environment – customers can rest assured knowing that their personal information will remain safe while they look for love here on this dynamic platform
LatinAmericanCupid pros
1.Offers a large user base of Latin American singles
2. Provides translation services for communication with users who don't speak English
3. Easy to use and navigate website interface
4. Free membership option available
LatinAmericanCupid const
1.Limited features for free users
2. Some profiles may be fake or inactive
3. Lack of customer service support
LatinAmericanCupid premium
1.1 Month: $29.98
2. 3 Months: $59.99
3. 12 Months: $119.98
1.1 Month – $29.98
2. 3 Months – $59.99
3. 12 Months – $119.98
• LatinAmericanCupid has over 3 million members worldwide.
• It is available in 8 different languages and its website can be accessed from more than 30 countries around the world.
• The site receives an average of 200,000 visitors per month.
• Around 60% of the users are male while 40% are female.
• Most users come from Brazil, Mexico, Colombia, Peru and Chile with other South American countries also represented on the platform as well as North America and Europe too.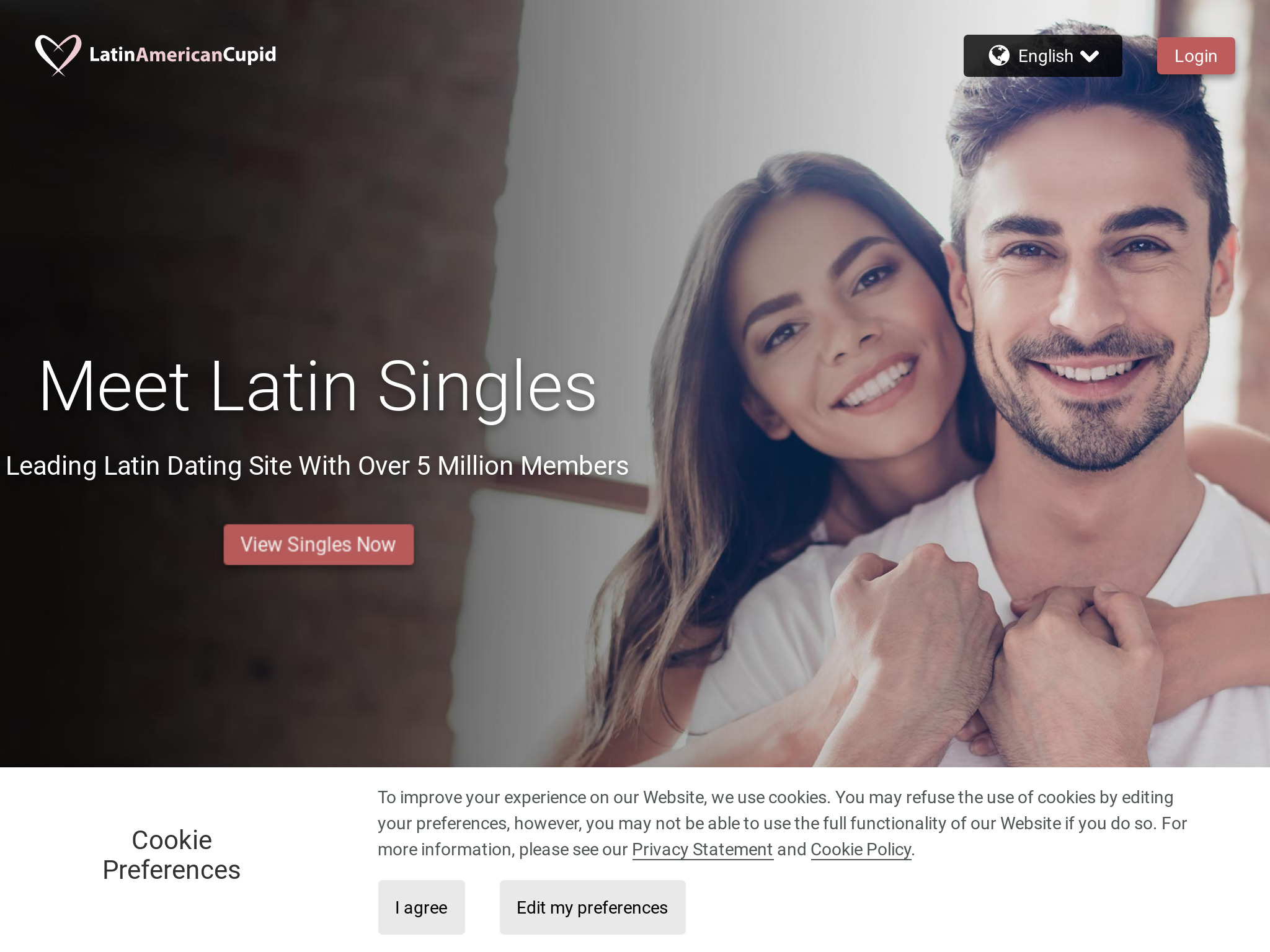 1. Large user base
2. Easy to use interface
3. Variety of communication tools available
4. Verified profiles for extra security and trustworthiness
5. Free membership options
Limited search options
Fake profiles may exist
Not all members are serious about finding a relationship
Expensive membership fees
Tantan
Tantan is a leading social and dating app in China, with over 400 million users worldwide. It allows people to meet new friends or potential partners through swiping left or right on profiles. The app has become increasingly popular among young adults since its launch in 2014 due to its simple design and user-friendly interface. Tantan also offers features such as group chats, photo sharing, location search, video streaming and more that make it an attractive platform for finding relationships online. According to App Annie statistics from 2020, the average daily active users of Tantan was around 10 million while monthly active users were estimated at 40 million during this period making it one of the most used apps in China today! On top of that ,it had a total revenue exceeding $2 billion USD last year alone showing just how successful it's been so far . With advanced algorithms designed specifically for matching compatible singles together ,the future looks bright for Tantan as they continue their journey towards becoming the go-to place when looking for love online !
Tantan pros
1.Easy to use and navigate
2. Large user base with a wide variety of people
3. Offers many features such as video chat, voice messaging, etc.
4. Provides an effective way to meet new people
Tantan const
1.Limited privacy settings
2. High risk of fake profiles and catfishing
3. Low quality matches due to lack of profile information
Tantan premium
1.Monthly: $19.99
2. Quarterly: $44.97
3. Half-yearly: $69.94
4. Yearly (Best Value): $89
1.Monthly subscription: $14.99
2. 3-month subscription: $34.99
3. 6-month subscription: $59.99
• Tantan is a Chinese dating app with over 300 million users worldwide.
• It was launched in 2014 and has become one of the most popular social apps in China, surpassing Tinder as the top-grossing non-game mobile application on Apple's App Store for two consecutive years (2018 and 2019).
• According to Sensor Tower, Tantan had an estimated monthly active user base of 8.7 million people at the end of 2020. This figure represents a 5% increase from its 7th month peak in April 2020 when it recorded 8.3 million MAUs globally across both iOS and Android platforms combined
JoyClub
JoyClub is an online community for adults to explore their sexuality and connect with like-minded individuals. It has over 1 million members from all around the world, making it one of the largest adult communities on the internet. JoyClub offers a variety of features such as forums, chat rooms, photo galleries and videos that help its users find partners or just engage in casual conversations about sex related topics. The website also provides detailed information about sexual health including articles written by experts in this field. Additionally, there are various groups available where people can discuss different aspects of their sexuality without judgement or fear of being judged by others. With more than 200 000 active monthly users and over 10 million page views per month Joyclub is a great place to meet new people who share similar interests while learning something new at the same time!
JoyClub pros
1.Easy to use platform with a wide range of features
2. Comprehensive membership system and community support
3. Access to exclusive events, discounts, and deals
4. Ability to create custom profiles for users
JoyClub const
1.Limited access to certain features for free users
2. No guarantee of safety and security when meeting people in person
3. Lack of customer support options
JoyClub premium
1.6 Months Premium Membership: €39.90
2. 12 Months Premium Membership: €59.90
3. 24 Months Premium Membership: €89,90
1.6 Months Premium Membership: €69.90
2. 12 Months Premium Membership: €99.90
3. 24 Months Premium Membership: €149,80
• JoyClub has over 3 million members.
• The website is available in German, English and French.
• There are more than 1 million active users each month on the platform.
• Over 100,000 new members join every month from all around the world.
• More than 200 events take place each week at various locations across Germany and Europe through JoyClub's event calendar feature called "JoyLife".
Hornet
The Hornet is a powerful and agile aircraft, used by the United States Navy for both fighter and attack missions. It has an impressive wingspan of 42 feet (12.8 m) with two Pratt & Whitney F100-PW-220 engines providing over 23,000 pounds of thrust each. The airframe itself is constructed from titanium alloy which gives it great strength while still keeping its weight down to just under 50,000 lbs (22700 kg). Its maximum speed in level flight can reach Mach 1.7 or 1125 mph (1805 km/h), making it one of the fastest combat jets ever built! In addition to this incredible performance capability, the Hornet also carries a formidable weapons load including up to 13 hardpoints capable of carrying bombs and missiles as well as other armaments such as guns or rockets pods for close air support operations. As part of its mission capabilities it also features advanced avionics systems allowing pilots unparalleled situational awareness when engaging targets on land or sea; these include state-of-the art radar systems coupled with infrared search and track sensors that provide exceptional target acquisition ranges even at night time conditions! Finally, despite all this power packed into one package – thanks largely due to its lightweight construction – the Hornet boasts excellent maneuverability characteristics allowing pilots greater control during dogfights against enemy fighters in aerial engagements
Hornet pros
1.Easy to use and intuitive interface
2. Large community of users with a wide variety of interests
3. Ability to join different groups, including private ones
4. High level of security and privacy features
Hornet const
1.Limited customization options
2. High price point
3. Complicated user interface
Hornet premium
1.1 Month – $9.99
2. 3 Months – $24.99
3. 6 Months – $39.99
4. 12 Months (1 Year) –$59
1.1 Month: $9.99
2. 3 Months: $24.99
3. 6 Months: $44.99
4. 12 Months (Best Value): $69
Hornet is one of the world's largest gay social networks, with over 25 million users worldwide. It has been downloaded more than 20 million times in over 200 countries and regions around the world. Hornet also provides a platform for its users to connect, engage and share content related to their interests such as health & wellness, travel & lifestyle, entertainment & culture and news about LGBTQ+ issues from all around the globe. The app has an average rating of 4 stars on both iOS App Store (4.7) and Google Play Store (3). According to SimilarWeb data collected between January 2020 – April 2021 Hornet had nearly 15M visits per month globally with most visitors coming from United States followed by Brazil India France Germany Italy Mexico Spain Turkey Argentina Colombia Philippines Russia Thailand South Africa Ukraine Indonesia Japan Vietnam Canada Australia Peru Chile Saudi Arabia Egypt Taiwan Algeria Morocco Netherlands Hong Kong Malaysia Singapore Bangladesh Pakistan Israel Ireland Belarus Latvia Jordan Lithuania Moldova Kazakhstan Uzbekistan Azerbaijan Armenia Cyprus Slovakia Slovenia Bulgaria Croatia Serbia Montenegro Macedonia Albania Greece Kuwait Qatar Bahrain Oman Yemen Lebanon Syria Iraq Afghanistan Somalia Sudan Rwanda Ethiopia Mauritius Tanzania Zambia Uganda Malawi Madagascar Kenya Namibia Botswana Zimbabwe Nigeria Ghana Cameroon Ivory Coast Liberia Senegal Burkina Faso Guinea Togo Benin Mali Gambia Sierra Leone Equatorial Guinea Gabon Angola Mozambique Congo DRC Lesotho Swaziland Djibouti Eritrea Burundi Central African Republic Chad South Sudan Comoros Mayotte Reunion Seychelles Sao Tome Principe Cape Verde Islands Falkland Islands French Guiana Suriname Guyana Venezuela British Virgin Island St Helena Ascension Tristan da Cunha Faroe Islands Greenland Svalbard Jan Mayen Iceland Liechtenstein Monaco Andorra Vatican City San Marino Gibraltar Macau
Shaadi.com
Shaadi.com is the world's largest and most successful matrimonial service, connecting millions of people around the globe with their perfect match. Founded in 1996, Shaadi has been helping singles find love for over two decades now! With more than 35 million users across 190 countries, it offers a comprehensive range of services to help you find your soulmate. It boasts an impressive success rate – over 2 lakh marriages have resulted from its platform so far!
The site features a wide variety of tools that make finding your ideal partner easier than ever before – advanced search filters based on religion and caste preferences; verified profiles; personalised recommendations tailored to individual needs; secure chatrooms for private conversations between members who share mutual interests or backgrounds; plus exclusive events where like-minded individuals can meet up face-to-face. In addition, Shaadi also provides helpful advice articles written by experts on topics such as relationship tips and marriage counselling guidance.
With all these features combined into one powerful package – along with 24/7 customer support available in multiple languages – it's no wonder why Shaadi continues to be trusted by millions worldwide as their go-to destination when looking for true love online!
Shaadi.com pros
1.Shaadi.com offers a wide range of potential matches with detailed profiles
2. The site has many success stories and testimonials from happy couples
3. Shaadi.com provides helpful customer service to assist users in finding their perfect match
4. There are several different subscription plans available, allowing customers to choose the best option for them
Shaadi.com const
1.Expensive membership fees
2. Limited access to features without a paid subscription
3. Lack of privacy for members due to public profiles and searchable databases
4. Potential for fraud or scamming by malicious users
Shaadi.com premium
1.3 Months – Rs. 2899
2. 6 Months – Rs. 4999
3. 12 Months – Rs 8999
1.3 Months – ₹2,400
2. 6 Months – ₹3,800
3. 12 Months – ₹5,500
• Shaadi.com is the world's largest matrimonial website with over 40 million registered users and 3.8 million success stories worldwide.
• It has facilitated more than 4 lakh marriages since its inception in 1996, making it one of India's oldest online matchmaking services provider for singles looking to find a life partner.
• Over 1 billion matches have been made on Shaadi since its launch, leading to an average of 25000 successful marriages every month globally!
• In 2019 alone, there were over 200 thousand weddings that took place through Shaadi which translates into around 6500 weddings per day!
Illicit Encounters
Illicit Encounters is an online dating website that caters to married people looking for extra-marital affairs. Founded in 2003, the site has over 1 million members from all around the world and continues to grow each day. With a success rate of over 80%, Illicit Encounters provides users with an easy way to meet other likeminded individuals without risking their privacy or marriage status. The site also offers a range of features such as anonymous messaging, discreet photo albums and advanced search options so users can find exactly what they are looking for quickly and easily. In addition, Illicit Encounters' customer service team is available 24/7 should any issues arise during use of the website – providing peace of mind when using this type of platform. Whether you're seeking something casual or long term – there's no better place than IllicitEncouters!
Illicit Encounters pros
1.Allows people to explore their sexuality in a safe and discreet manner.
2. Provides an opportunity for couples to experience new things together without judgment or fear of repercussions from family, friends, or society at large.
3. Can help improve communication between partners as they discuss boundaries and expectations before engaging in any activities outside the relationship.
4. Offers potential emotional fulfillment that may not be available within traditional relationships due to societal pressures or personal preferences/desires
Illicit Encounters const
1.Risk of physical and emotional harm
2. Illegal in many countries
3. Potential for public embarrassment or shame
4. Can damage existing relationships
Illicit Encounters premium
1.3 Months – £139.00
2. 6 Months – £239.00
3. 12 Months – £349
1.1 Month – £39.95
2. 3 Months – £74.85
3. 6 Months – £119.70
4. 12 Months (Best Value) – £159
• Illicit Encounters is a UK-based online dating website that caters to married people looking for extramarital affairs.
• It was founded in 2003 and has over 1 million members worldwide, with the majority of its users being from the United Kingdom.
• The site claims to have facilitated more than 200,000 discreet encounters since it launched.
• According to their data, men make up 70% of their user base while women account for 30%.
BiggerCity
BiggerCity is an online community for gay and bisexual men, connecting over 8 million members worldwide. It's a safe space to meet new people, find friends or partners, share stories and experiences with like-minded individuals from all around the world. With its vibrant social network of forums, chat rooms and events listings BiggerCity provides users with countless opportunities to connect in meaningful ways. The site also offers access to exclusive content such as videos featuring real life interviews with inspiring LGBTQ+ personalities who discuss their lives openly on camera. In addition to these features there are plenty of other activities available including trivia games that help build relationships between members while they compete against each other in friendly competition; group chats where conversations can range from serious topics about identity politics or health issues affecting the LGBT+ population – right through lighthearted banter about favorite movies & TV shows; plus much more! Statistics show that nearly 40% of visitors return every month showing just how popular this platform has become among those looking for connection within the queer community – making it one of largest networks catering specifically towards this demographic today!
BiggerCity pros
1.Easy to navigate user interface
2. Wide variety of chat rooms and features
3. Ability to connect with people from around the world
4. Free membership option available
BiggerCity const
1.Limited user base
2. Lack of features compared to other dating sites
3. Potential for fake profiles and scams
BiggerCity premium
1.6-Month Premium Membership: $24.95
2. 12-Month Premium Membership: $39.95
3. 24-Month Premium Membership: $59.90
1.1 Month – $9.99
2. 3 Months – $24.99
3. 6 Months – $44.99
4. 12 Months (Best Value) – $79
BiggerCity is a social networking site for the chubby, bear and chaser community. It was founded in 1999 by Bob Tisdale and has grown to become one of the largest online communities for gay men who are interested in larger bodies.
As of 2021, BiggerCity boasts over 2 million members from all around the world with an average monthly active user base of 1 million people. The majority (80%) come from North America while Europe accounts for 12% followed by Asia at 4%. On any given day there can be up to 25 thousand users logged into their account simultaneously during peak hours making it one of the most popular sites within its niche market segmentation. Additionally, more than 3 million messages are sent each month between members which helps create a vibrant atmosphere onsite as well as facilitate relationships among like-minded individuals across different countries or continents
Conclusion
Overall, the best and most popular dating sites and apps offer users a great way to meet new people. With an array of features such as matchmaking algorithms, personality tests, video chat options and more – these platforms provide an easy-to-use interface that allows singles to find their perfect match in no time. Whether you're looking for casual dates or long term relationships – there is something out there for everyone! So take your pick from our list of top rated online dating services today – it could be the start of something special!
FAQ
What types of people use dating sites and apps?
Dating sites and apps are used by a wide variety of people, including those who are looking for casual relationships or serious commitments. There is no one type that uses these platforms; they can be used by anyone from any age group, gender identity, sexual orientation, race/ethnicity or religion. Some users may even join to make friends rather than find romantic partners.
How do I know if someone on a dating site is interested in me?
If you're talking with someone online through messaging or video chat it's usually pretty easy to tell whether the person has an interest in you – look out for compliments about your appearance or personality as well as questions about what kind of things you like doing together. However if the conversation isn't progressing then it's probably best not to assume anything – ask them directly how they feel!
Are there safety measures I should take when using dating sites and apps?
Absolutely! It's important that before meeting up with anyone from an online platform (whether this is via text message/video call) that both parties have established trust between each other first – never give away personal information such as address until after multiple conversations have taken place over several days at least . Additionally , always meet up somewhere public where there will be plenty of other people around just incase something goes wrong during your date !